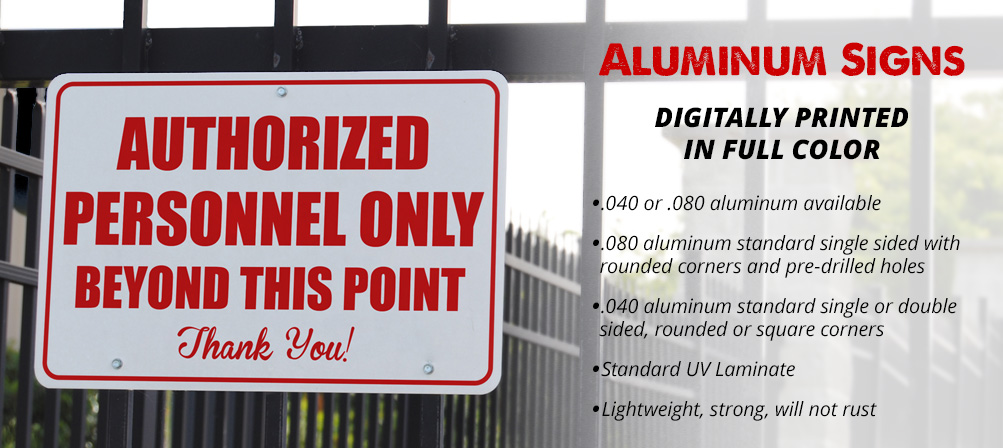 HEAVY DUTY .080 ALUMINUM • FULL COLOR PRINTING INCLUDED • LOW MINIMUM ORDER • NO RUN CHARGES
Custom aluminum signs for gates, fences and the sides of buildings. Made in the USA. We do not offer custom shapes for these signs. These signs cannot be embossed.
DESCRIPTION
Custom .080 heavy duty aluminum signs are great for any business or organization that wishes to combine their brand and culture with their signage. Each  sign is printed in full color on heavy duty .080 aluminum. Signs come standard with 1 ½" rounded corners and UV laminate coating. We offer artwork templates for these signs.
This is a useful sign for office buildings, museums, amusement parks, restaurants, universities and public buildings. You can completely customize the sign to enhance your event or message. After you provide the artwork, we will send a free proof for your approval.
Built to last outdoors for years, our metal signs are a great way to advertise your message or promote your brand. Since full color printing is included, you can make each sign as colorful as you like.
PRICING
.080 Heavy Duty Aluminum Signs
Quantity
#08-1218
12″ x 18″
#08-1818
18″ x 18″
#08-1824
18″ x 24″
5 – 9
26.00
31.30
36.00
10 – 25
25.20
32.80
37.80
26 – 50
22.40
29.16
33.60
51 – 100
21.00
27.34
31.50
$20 set-up charge per order (regardless of order quantity).
Custom sizes and shapes are not available. We cannot emboss these signs.
Heavy duty signs come standard with 1 ½" rounded corners. Holes are not included.  Custom hole placement available for $2.00 per sign.
SPECIFICATIONS
• Sign Sizes: 12″ x 18″ • 18″ x 18″ • 18 x 24″
• Image Area: 12″ x 18 • 18″ x 18″ • 18″ x 24″
• Rounded Corners: 1 ½"
• Production time: The standard lead time is 7 days after the proof has been approved. Proofs are free.
• Base price includes: Full color printing onto one side. UV laminate coating.
• Material: Manufactured from .080" aluminum.
• 4-Color Process pricing is included.
ARTWORK
Please refer to our Artwork Page to learn about creating artwork Custom Aluminum Signs.
Artwork can be emailed to sales@metalsigns.com or uploaded using our Contact Page.
We do offer the templates below. The templates below do not include holes.
Artwork template for rectangular 12″ x 18″ aluminum sign:  08-1218 Sign
Artwork template for rectangular 18″ x 18″ aluminum sign:  08-1818 Sign
Artwork template for rectangular 18″ x 24″ aluminum sign:  08-1824 Sign